It was freshman year of college, and Shrew had a crush on a boy in her engineering class.
Spoiler alert: that boy was not Logan. Instead, Logan was the annoying kid who lived a floor above her in her residential hall and was the source of many of her noise complaints. But one night, after a few too many drinks, Shrew sat down in the hallway of their residential hall and told Logan all about her crush, and that was the beginning of a long friendship. As they got to know each other, Shrew found Logan's spontaneity terrifying and thrilling, while Logan found Shrew's practicality and need for organization both amusing and grounding.
A year later, Logan caught feelings and, after asking Shrew out three different times, she finally said yes. Three years of college romance followed over French crêpes in downtown Knoxville, Memphis Grizzlies playoff games in the campus library, and home-cooked dinners in their neighboring apartments. They learned how to live with each other's quirks and bring out the best in each other. After college, Shrew went off to Dallas for her job, while Logan found a job in South Carolina. Two long years of long-distance later, they finally reunited in Atlanta and have built a home together here, with Bojack the cat as the most recent addition to their little family. Logan and Shrew have been there for each other through six years of ups and downs, and they can't wait to get married and continue their Friday night date night tradition for the rest of their lives.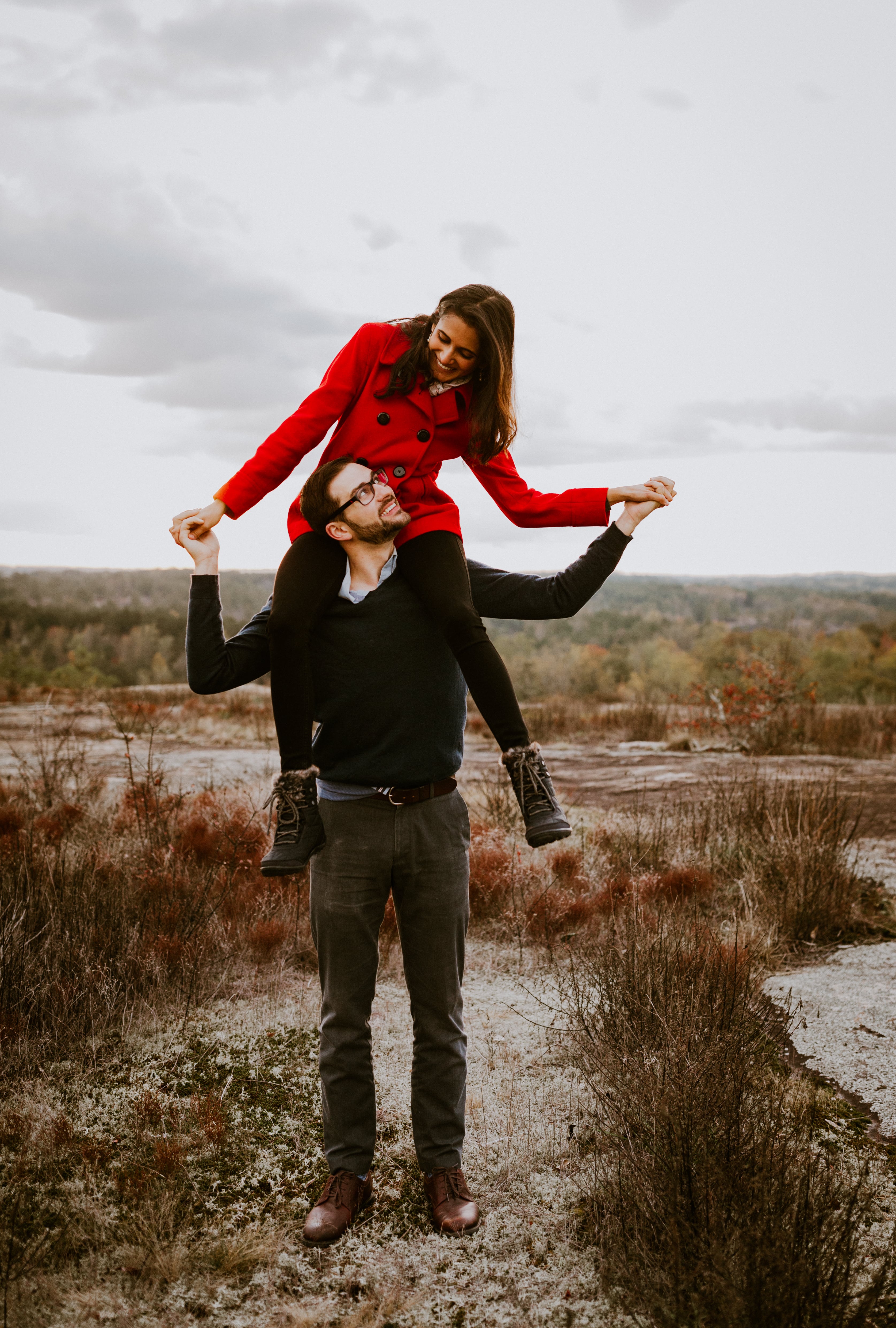 The Proposal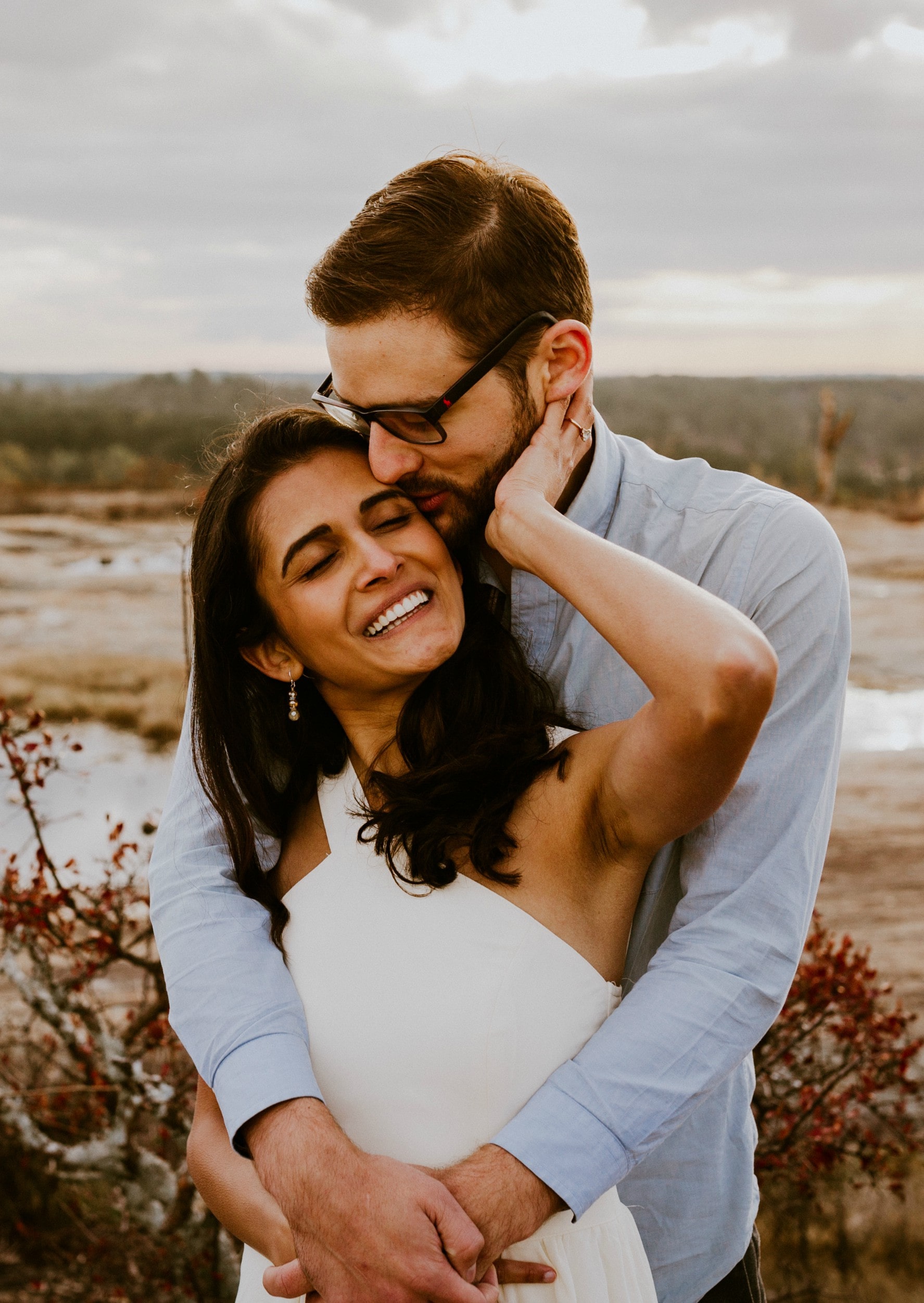 Logan had known for quite some time that Shrew was the one, but in January of 2019, he finally started looking at engagement rings. When he and Shrew started planning a trip to Asheville over Memorial Day weekend, Logan knew this would be the perfect opportunity because of so many special shared memories in Asheville during college. They set off on their trip, with Bojack in tow and Logan ready with his perfect plan to propose on a hike in the Smoky Mountains. But like many of Logan's plans, everything went wrong. Due to some incorrect directions, Logan and Shrew never made it to their hike, and they were not in the best of moods.
Luckily, there are few bad moods in their relationship that food cannot solve, and after a hearty breakfast, the day took a much better turn. That afternoon, they ended up at a beautiful farm in the mountains and found themselves alone except for some adorable cows and goats. As they fed the animals, Logan realized there would never be a more perfect moment for Shrew so he got down on one knee, and under the supervision of the cows, asked Shrew to marry him. She said yes.
The Wedding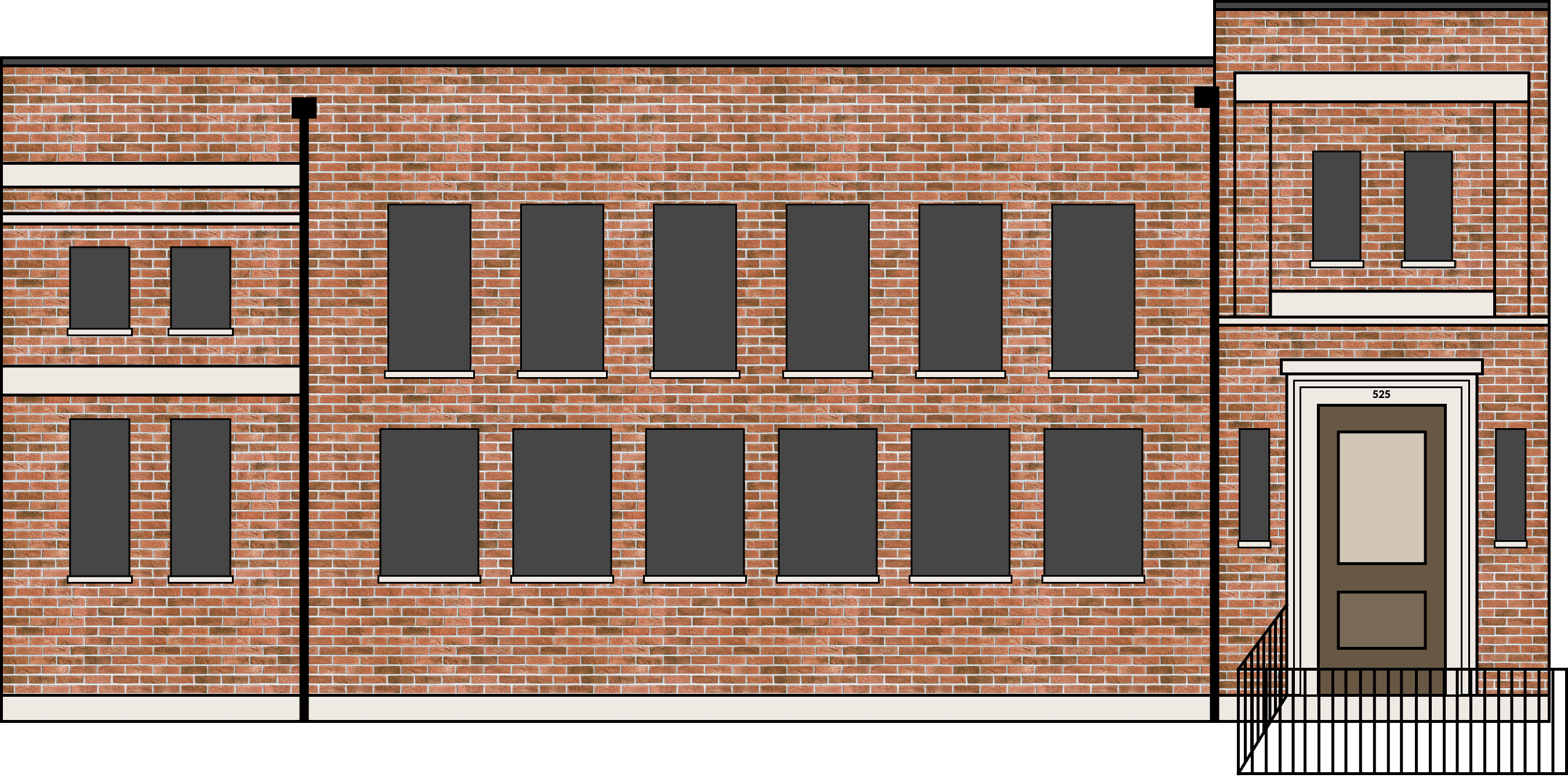 We will be getting married on September 6, 2020 at Upstairs Atlanta. A former Kodak film processing plant, this building is now a beautiful event space in the heart of West Midtown Atlanta.
Groom's Party
Chase Hargis
Best Man
Josh Ferrell
Groomsman
Trey Henderson
Groomsman
Bridal Party
Manan Desai
Man of Honor
Yidan Zeng
Bridesmaid
Madhuri Prasad
Bridesmaid
Atlanta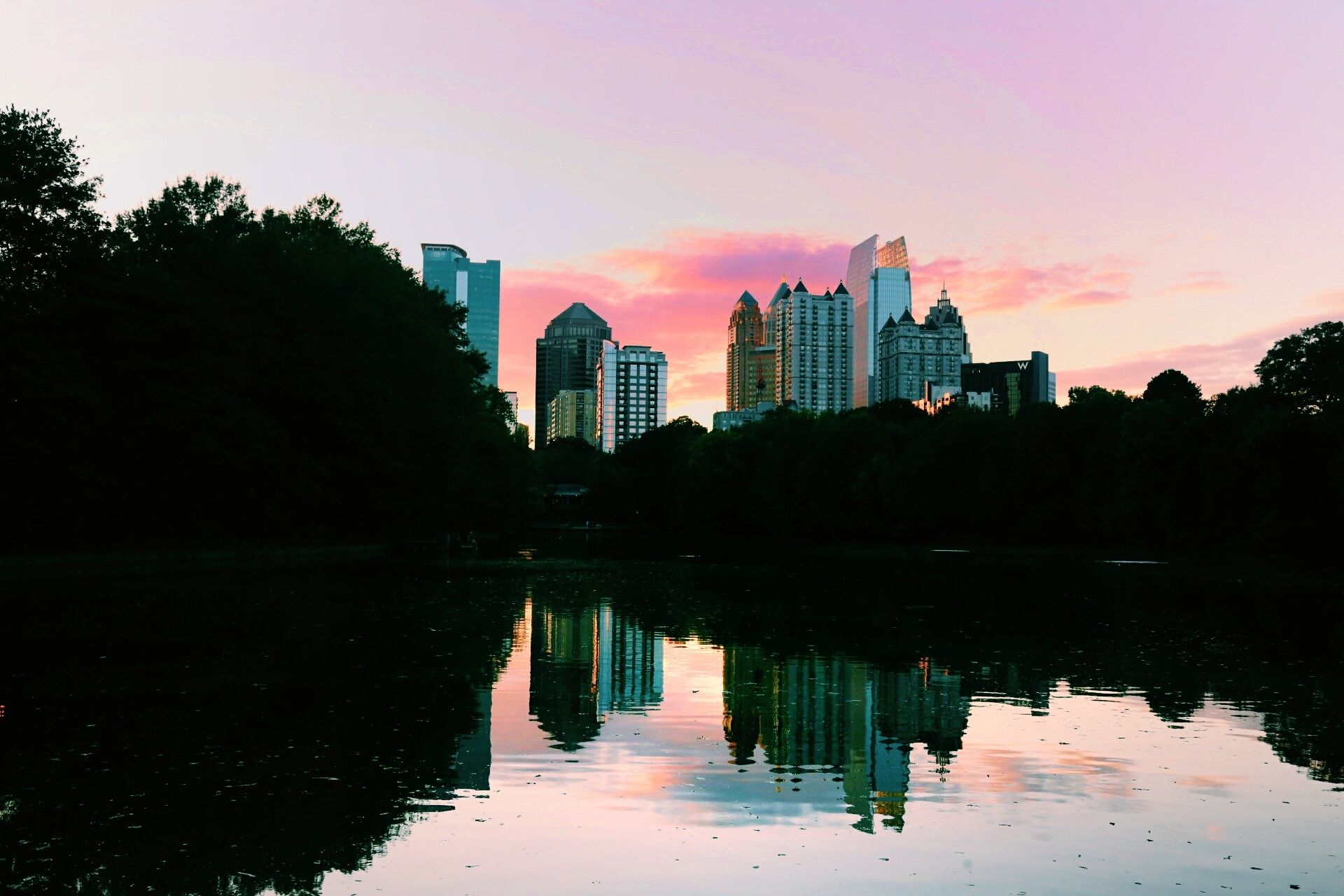 We feel so lucky to call a city as diverse as Atlanta home, and we can't wait to show it off. These are a few of our favorite places.
Restaurants
Taqueria del Sol
We are in the dangerous position of living right down the street from this amazing Mexican-inspired restaurant. Ever since we were introduced to it by Shrew's cousin Parth, we've been obsessed. Shrew is in love with their queso, while Logan loves their Memphis taco.
Jinya Ramen Bar
Shrew's mom used to ask us every Friday where we planned to go for our Friday date night dinner, but after we said we were going to Jinya probably 10 weeks in a row, she has stopped asking entirely. Their spicy chicken ramen and tonkotsu black ramen are to die for.
Egg Harbor Cafe
One of our favorite brunch spots, this restaurant is full of sunlight and delicious coffee. They strive to serve ethical and carefully-sourced food, all of which is delicious, and the service is always excellent.
Desserts
Sublime Doughnuts
Another place Shrew was introduced to by her cousin Parth, Sublime Doughnuts makes hands-down the best doughnuts in Atlanta. Shrew highly recommends the "Dirty D."
Jeni's Ice Cream
Conveniently located right next to Taqueria del Sol in West Midtown, Jeni's ice cream is some of the most unique ice cream you will ever taste. Don't expect all the usual flavors you find in ice cream shops, but come in ready to try flavors made from whatever is local and fresh that season.
Buttermilk Sky Pies
Logan and Shrew would pass by this adorable pie shop every time they went to the grocery store in Knoxville. When they eventually found their way to Atlanta, they were thrilled to learn that Buttermilk Sky had a store there too! They make the best homemade apple pie we've ever had.
Parks & Shopping
Piedmont Park
It's hard to believe you're still in Atlanta when you're in the middle of Piedmont Park. This 189-acre park has something for everyone, from nature hikes to a dog park. Parking does cost $2/hr, but it's completely worth every penny. We'll sometimes just bring a soccer ball or frisbee and spend hours here.
Ponce City Market
Once a Sears building, Ponce City Market is one of the most lively places in Atlanta, full of great shops, restaurants, and bars. This building seems to have something for everyone, from beautiful furniture to Indian street food. The rooftop Skyline Park has mini golf and amazing views of the Atlanta skyline.
Atlantic Station
Atlantic Station is an outdoor shopping area where we've wasted many of our days wandering through IKEA or the aisles of Target. On a nice day, this is a great place to just walk hand-in-hand and window shop. The park area in the center of the shopping district often has free yoga or movie nights, so check out their schedule!
Things to Do
Georgia Aquarium
Truly a must-see in Atlanta. The Georgia Aquarium is the largest aquarium in the country and the only aquarium outside of Asia to house whale sharks. Our minds were blown as we watched the whale sharks swim above us while going through the Ocean Voyager tunnel, and the floor-to-ceiling aquariums left us in awe.
Center for Civil and Human Rights
Atlanta was the birthplace and home of Martin Luther King, Jr. so it only makes sense for the city to have a museum dedicated to celebrating the achievements of civil and human rights movements in the US and around the world. We urge all our guests to visit, and be prepared to feel all kinds of emotions.
High Museum of Art
One of the most beautiful buildings in Atlanta (even featured in Black Panther), the High Museum displays art from the Atlanta region and around the world. We love our date nights here, and we highly recommend their Frequency Friday event for any guests arriving early for our wedding. The Frequency Friday events feature live music and demonstrations, as well as access to all the museum's galleries.
FAQs
Where should we book our accommodations?
We recommend booking accommodations through Airbnb for affordability and the opportunity to stay in unique, one-of-a-kind homes. If you would prefer to stay in a hotel, we have reserved the following discounted hotel room blocks:
These hotels are about 2 blocks apart from each other and only a couple miles from the wedding venue.
Will the wedding venue have parking?
Yes, the venue has 28 parking spots available, but we ask that you please take a Lyft or Uber if you plan to be drinking at all. You'll find that these rideshare programs are very affordable within the city.
How can I receive wedding updates and information?
This website will be updated regularly as we finalize more plans, but please sign up for our wedding mailing list to ensure you get alerts for anything important! We'll use it to communicate things like hotel blocks, pre-wedding events, and anything else that will be important for our guests to be aware of for our wedding.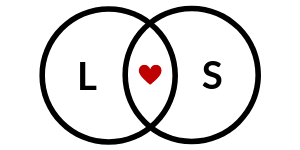 #LoganCaughtAShrew